A New Generation of Impact Businesses Is Here to Stay!
Learn how to become a future-proof and sought-after brand by putting people and purpose before profit.
Experience Nadine Bruder up close and learn how to become a future-proof and sought-after brand by putting people and purpose before profit.
Data clearly shows that organizations that nurture their purpose, aka their societal raison d'être and contribution, as well as their employees outperform competitors through
an engaged workforce
consumer loyalty
stakeholder trust
increased capabilities to innovate
and better ROI
Today, employees, and in particular Gen Z and Millennials, are searching for meaning, purpose and fulfillment in the workplace.
Just imagine, 68% of individuals in the US, for example, would change jobs because of a brand's sustainability.
In this keynote Nadine shares compelling stories and examples from brands that experience great success and better ROI, because they leverage people and purpose as their most important business assets.
She also integrates her 15+ years of hands-on experience in digital innovation, sustainability/ ESG, and brand building to not only show and tell, but to inspire the group and empower attendees with resources they need to solve their challenges.
It's going to be authentic, inspirational, science-based, and packed with insights, cases and tactics.
Format
Keynote, on-site or virtual
Duration
45 – 90 min live session
Language
English or German
Included
A pre-engagement call
Q&A optional
Complementary tech support
Request This Keynote
Valuable lessons from purpose-led leaders, and the science behind it
How purpose-driven brands create remarkable stakeholder loyalty, trust and talent attraction
How ESG opens up new arenas for business impact
The critical ingredients to creating a culture of impact and innovation
Facing increased competition and need to progress
Experiencing talent fluctuation and/ or shortage
Struggling with employee disengagement
"Nadine is clearly ahead of her time and an inspiring leader.

Stefan Groschupf

Serial Tech Entrepreneur & Board Member
"Metaphorically speaking: Nadine Bruder is like a secret asset to any business.

Jascha Stein

Serial Tech Entrepreneur & WEF Global Innovator
"Nadine's intricate sense and sharp foresight to identify business opportunities, potential products and brands make her stand on the frontline of all things digital and innovative.

CEO

Consumer Goods Company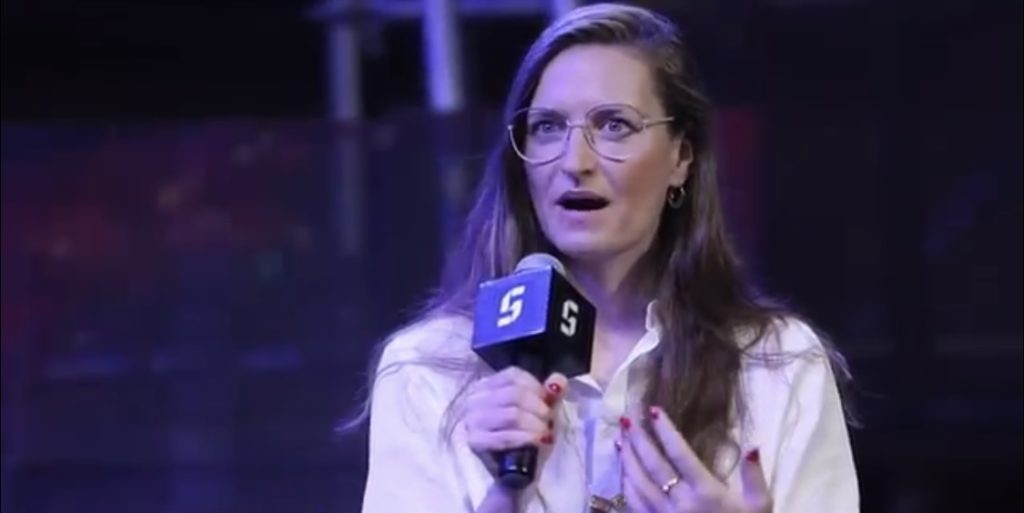 You May Have Seen Nadine Bruder Speaking At

Nadine Bruder is a multiple-award winning strategist, conceptual creative, sustainability/ ESG advocate, renaissance woman with an art & science mindset, and the founder of JUST DAMN RIGHT.
Asking "WHY" and "HOW" in favor of purpose, empowerment and progress is her innate mode and has been at the core of her work throughout.
Funnily enough Nadine's first purpose-led strategy advisory work directly after university in 2007 turned Steve Jobs – the businessman who personifies purpose-driven leadership probably still the most – into a fan of her former mandate's brand.
She has been a catalytic and transformative force for international companies, both industry leaders and innovative startups, for over a decade now. Her signature is a strategic orchestration of purpose-driven leadership, technology and innovation, sustainability, culture, and experience design – resulting in major improvements of performance, ROI and brand equity for companies.
From creating brands and digital products that have been awarded, strategizing and executing innovation and culture labs for listed companies, to developing new revenue streams and business models, international growth initiatives, and partnerships that exceeded goals.
Vodafone, VISA, Ford, Henkel, Berlinale Film Festival and Canyon Bicycles are some of the brands Nadine has had the privilege to work with.
In 2016 she built Germany's first disruptive IT education company from scratch to help close the talent gap and enable people to start a new career in tech. Since then, Nadine has been integrating the Global Sustainable Development Goals (SDGs), ESG, and finance/investing into her professional activities.
Today she runs JUST DAMN RIGHT, operating internationally at the intersection of sustainability-led investing, innovation, and culture to create and help grow solutions that address the challenges of our time, big and small. In addition, together with her team of domain experts, Nadine guides companies on their paths to ESG and becoming an impact leader.
Start Today! Learn How to Generate Remarkable ROI By Putting Purpose and People Before Profit.